Hong Kong students extend virtual hand of friendship to Down Under amid festive season spent apart
(16 December 2020) – Hong Kong students' far-reaching imagination in the "My Australian Christmas Card Competition 2020" shows the connection between communities in Hong Kong and Australia despite our being physically separated. The design of many entries demonstrated creative and playful ways of bridging the physical gaps as we celebrate Christmas together at the end of a challenging year.
A scrumptious virtual Christmas feast designed by Fung Hong Kiu of Tuen Mun Government Secondary School has been selected by Consul-General Elizabeth Ward as her official Christmas card. Apart from winning this year's junior primary school category, Fung has also won the 2018 competition in the senior primary school category.
The competition this year has attracted over 2,000 artworks from about 200 schools across Hong Kong.
"It's a record-breaking number, we're thrilled by the overwhelming response this year. It shows that local students have a strong interest in getting to know Australia and our Christmas traditions," Ms Ward said.
"The students demonstrated immense creativity in ideas not just about Christmas in Australia, but also the spirit of togetherness even when physically apart. So many entries reflected the strong bonds between Australia and Hong Kong," she added.
"I would like to thank all the young artists and their teachers and parents for supporting this competition and making this exhibition possible and successful."
The winners of the other three competition categories are: Feng Siu Ting, Thea of Alliance Primary School, Kowloon Tong (Junior Primary School Category), Yip Yan Hei of S.K.H. Fung Kei Primary school (Senior Primary School Category) and Yam An Bong of Wah Yan College, Hong Kong (Senior Secondary School Category).
Their card designs and other 48 selected artworks are now on display in a public art exhibition at the Fringe Vault of the Hong Kong Fringe Club.
The exhibition will run from today to 30 December and will be open Monday to Friday from 11 am to 4pm. Admission is free.
Due to COVID-19, the prize presentation and opening ceremony has been moved online.
To see the winning entries, visit hongkong.consulate.gov.au.
**************************************
Photo caption: Australian Consul-General Elizabeth Ward congratulates the four winners of the My Australian Christmas Card Competition 2020. The four winning designs have been printed as the official Christmas cards of the Australian Consulate-General Hong Kong.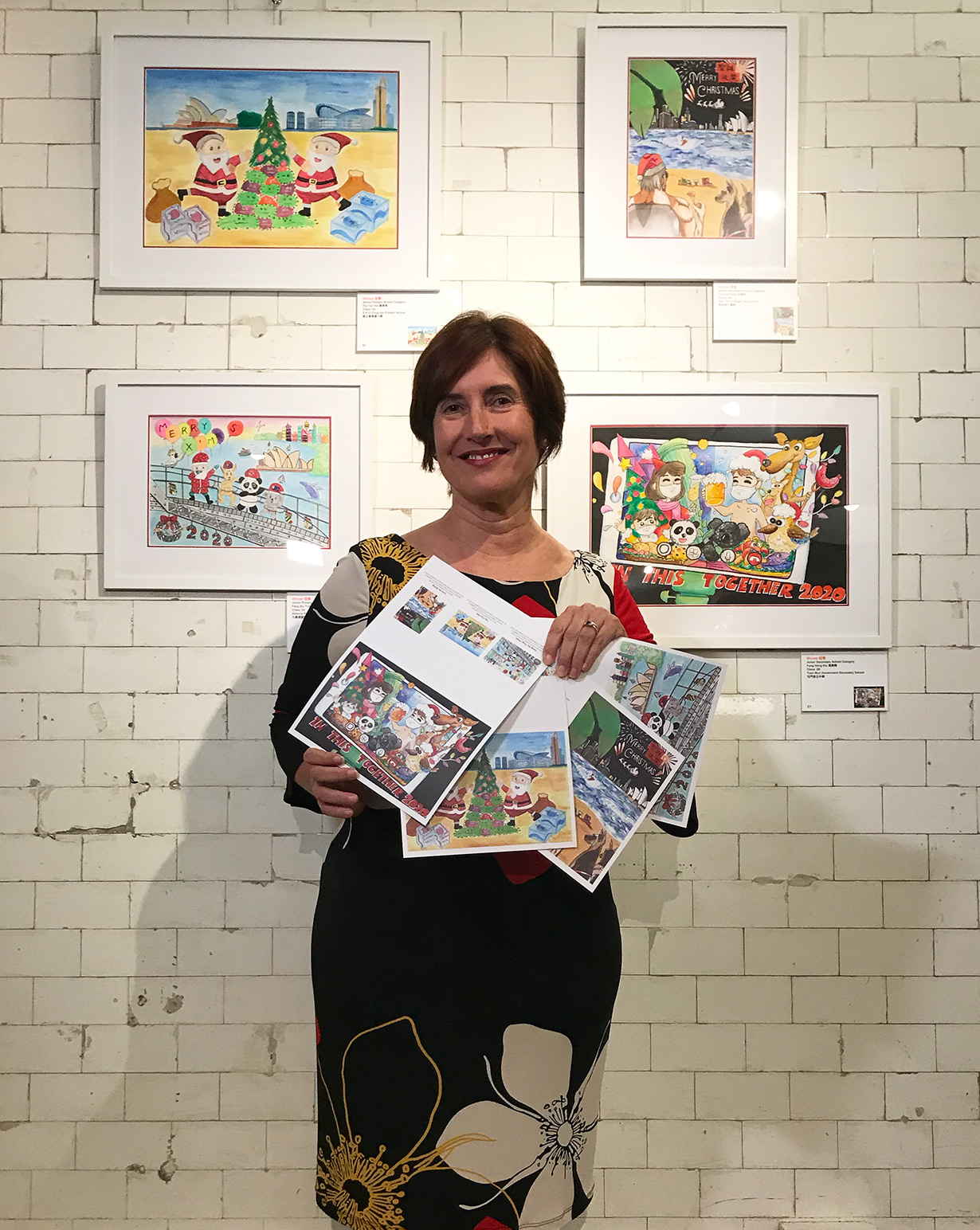 - END -
CONSULATE-GENERAL MEDIA CONTACT:
Tel: +852 2585 4482
Email: [email protected]