Anzac Day in Hong Kong - 25 April 2021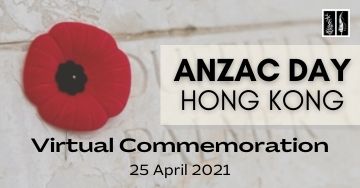 It's with regret that this year's Anzac Day commemoration in Hong Kong will again not be open to the public. Given ongoing Hong Kong government restrictions on public gatherings, we have been unable to arrange to gather at the Hong Kong Cenotaph. Instead, the Australian and New Zealand Consuls-General will pay private respects at the Commonwealth War Graves Cemetery at Sai Wan. This ceremony will be shown on our Facebook page on Anzac Day, 25 April.
More details will be available closer to Anzac Day, including on ways that you can also pay your respects.
Sai Wan War Cemetery
Among those buried at Sai Wan War Cemetery are 33 Australians and one New Zealander. Each was brought here for burial from other theatres in the Pacific. We have produced a guide to these graves, with available information about the service personnel. Hard copies will be available at the cemetery while stocks last. You can also download the guide in PDF form for printing, or for use on mobile devices, or view it online.
Location and visiting information
Sai Wan War Cemetery is in the east of Hong Kong island, about 11kms from Central. It is most easily reached by first taking the MTR Island line to Chai Wan. From there you can take a taxi from the rank below the station, or board Public Light Bus 16M or 16X which runs from Chai Wan station to Stanley, requesting it to stop at the Sai Wan War Cemetery. Please note that there are extremely limited parking spaces available.

The cemetery is open to the public from 8am – 5pm daily.
Other ways to commemorate
ABC Australia (NOW TV Ch 561 & CABLE TV Ch 326) will cover Anzac Day happenings occurring across the country. Starting at 2:25am Hong Kong time you can watch the Sydney Dawn Service, with the National Dawn Service in Canberra starting at 3:30am. The Melbourne Dawn Service starts at 4:00am. From 8:30am, ABC Australia will broadcast the National Ceremony from Canberra. ABC News 24 will also cover events on its YouTube channel, and also on the ABC Australia Facebook page.
Pause for a minute's silence and a time of reflection at 11.30am, the moment which corresponds with the time our troops landed at Gallipoli 105 years ago.
Post a virtual poppy or read others' messages here. (Lest We Forget)
Listen to the Department of Veterans' Affair's Spotify playlist, Anzac Day Commemorative Service, for music to help with your private commemoration.
Find out more about your own family's military history. The National Archives of Australia and the Australian War Memorial websites are good places to start.
Take a tour of key Anzac sites with 360 degree images and video. Download the ANZAC 360 app from the Apple Store or Google Play. You can also experience some of the Gallipoli sites of World War I via the ANZAC Walk podcast.
Making Anzac poppies
Our origami expert, Consul Elle Jasprizza-Quinn, shows you how to easily make Anzac poppies at home to mark the day. Watch the video here.
Watch the Anzac Day AFL match in Hong Kong
Join the Australian Association of Hong Kong to watch the Australian Football League Anzac Day match between Essendon and Collingwood. Click the link to find out more details and register.