Latest News
Australia has a substantial interest in Hong Kong's success, home to one of our biggest expatriate communities globally and our largest commercial presence in Asia. For details, please click here.

Are you a young leader with an interest in Australia-China relations? Australia-China Youth Dialogue advances the Australia-Greater China relationship by promoting dialogue between young leaders from the two regions. Applications are now open for delegates to this year's dialogue in Shanghai. For details, please click here.

Over 700 people have gathered in front of the Cenotaph in Central early today during the annual Anzac Day service. They came to pay their respects to those who served and made the ultimate sacrifice in defence of Australia and New Zealand.

The Morrison Government will establish a new and innovative National Foundation for Australia-China Relations to strengthen one of Australia's most significant bilateral relationships.

Today I announce the appointment of Mr Graham Fletcher as Australia's next Ambassador to China.

Australia and Hong Kong have today signed the Australia-Hong Kong Free Trade Agreement (A‑HKFTA) and associated Investment Agreement, securing more certainty and opportunities for Australian farmers, businesses and investors.

The Australian and Hong Kong governments have agreed on interim measures to allow Australian horses to race in Hong Kong under agreed biosecurity conditions that will permit the horses to be exported back to Australia. The arrangement is intended to minimise the impact of the suspension of direct horse imports from Hong Kong to Australia, in place since October 2017.


Hong Kong SAR's Chief Secretary, Mr Matthew Cheung Kin-chung, has praised the contribution of Australia's large Hong Kong-based community at an official celebration marking Australia's national day.

Santa taking a video call with Hong Kong children while he is enjoying Australia's beach with kangaroo and koala is the winning image of My Australian Christmas Card 2018.

Australia and Hong Kong have concluded negotiations on the Australia-Hong Kong Free Trade Agreement (FTA), marking a significant milestone in our already substantial trade and investment relationship.

Australian students continue to seize opportunities to live, study and undertake language training and internships in Hong Kong under the Australian Government's New Colombo Plan mobility program.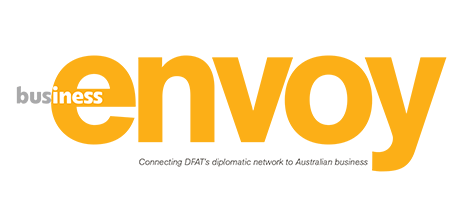 Business Envoy is a bi-monthly online publication which shares market insights from Australia's global diplomatic network. The publication draws on reporting and advice from Australian embassies and high commissions in key trade and investment markets as well as analysis on international issues from the Department of Foreign Affairs and Trade (DFAT) in Canberra.