Australians living, or staying for an extended period, in Hong Kong and Macau are encouraged to register their contact details at smartraveller.gov.au
Latest News
Santa taking a video call with Hong Kong children while he is enjoying Australia's beach with kangaroo and koala is the winning image of My Australian Christmas Card 2018.

Australia and Hong Kong have concluded negotiations on the Australia-Hong Kong Free Trade Agreement (FTA), marking a significant milestone in our already substantial trade and investment relationship.

Australian students continue to seize opportunities to live, study and undertake language training and internships in Hong Kong under the Australian Government's New Colombo Plan mobility program.

The Australia-China relationship gets stronger and stronger. It is built on so many connections. It is built on great economic engagement, it is built on history but above all it is built on family.

We are in the 46th year since diplomatic relations were established with China. It is useful to reflect on the relationship, and how it has broadened and deepened over those nearly 46 years. Today it is a Comprehensive Strategic Partnership. This is one of the highest levels in diplomatic terms that a relationship between two governments can reach - a comprehensive strategic partnership.

Acknowledging that where there are differences of opionion, provided we're respectful and mindful of each other's national sovereignty, provided we're respectful and mindul of the fact that we will have different points of view from time to time., we can engage in robust trade and investment, healthy trade and investment, that is for the mutual benefit of both China and Australia.

Multi-award winning Australian cybersecurity firm Entersoft Australia Pty Ltd, the Australian Trade and Investment Commission (Austrade), Austcyber, Campfire Collaborative Spaces, PwC have announced the FinTech Hackfest - a 24-hour long hackathon to help FinTechs secure their products.

The largest-ever international celebration of Australian wine will be held at Vinexpo Hong Kong, Asia's premier wine and spirits trade fair, for three days from Tuesday 29 May.

2 February 2018 – Australia and Hong Kong will soon implement a Mutual Recognition Arrangement (MRA) that's set to deliver substantial benefits to Australian and Hong Kong businesses.

Transcript of the speech by Minister for Trade, Tourism and Investment, The Hon Steven Ciobo MP, to the Australian and Hong Kong General Chambers of Commerce in Hong Kong at the official launch of negotiations for a Free Trade Agreement between Australia and Hong Kong. Photo gallery

Minister for Trade, Tourism and Investment, Steve Ciobo, has announced the launch of the Australia-Hong Kong Free Trade Agreement (A-HKFTA) negotiations with his counterpart, Mr Gregory So Kam-leung, Secretary for Commerce and Economic Development. An FTA with Hong Kong will help Australian exporters take advantage of the opportunities in this dynamic market, helping create more Australian jobs, particularly for Australian service providers.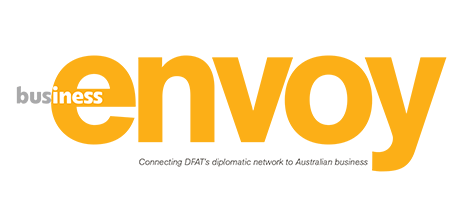 Business Envoy is a bi-monthly online publication which shares market insights from Australia's global diplomatic network. The publication draws on reporting and advice from Australian embassies and high commissions in key trade and investment markets as well as analysis on international issues from the Department of Foreign Affairs and Trade (DFAT) in Canberra.